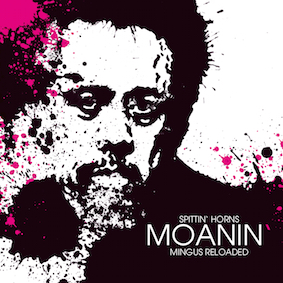 Lose/Listen:
01 Jelly Horn Soul
02 Nostalgia in Times Square
03 Pithecanthropus Erectus
05 Moanin'
06 Self Portrait in Three Colours
08 Canon
09 Tropensturm -Prayer for Passive Resistance
11 Ecclusiastics



&
CD kaufen / buy CD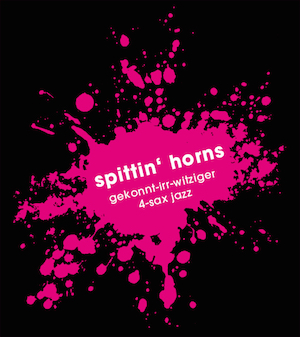 Moanin' - Mingus Reloaded! Der Name sagt's. Charles Mingus ist Programm auf der ersten CD von spittin' horns. Das Sax-Quartett mit Bandleaderin Barbara Wehrli Wutzl, Christoph Grab, Reto Suhner und Thomi Geiger wagt sich an das Oeuvre des amerikanischen Bassisten. Die 11 sorgfältig ausgewählten und gekonnt arrangierten Songs zeigen die ganze Breite seines Schaffens. Sie werfen einen vorsichtigen, interessierten Blick auf die tiefen Abgründe des kontroversen, vielschichtigen Menschen hinter den Kompositionen. Die spittin' horns bleiben sich dabei immer treu. Das ist Sound. Sax-Sound vom Feinsten.
It takes a bold, audacious soul to tackle the repertoire of Charles Mingus, one of the most formidable figures in jazz, let alone take liberties with those imposing works. Swiss saxophonist-composer-arranger Barbara Wehrli Wutzl is such a person. The four kindred spirits, collectively known as spittin' horns, have their way with a stunning collection of Mingus classics on the superb sax quartet outing, Moanin' - Mingus Reloaded.
Mingus would be proud!

Bill Milkowski, Journalist (u.a. Down Beat Magazine) & Author ("JACO: The Extraordinary and Tragic Life of Jaco Pastorius" , Backbeat Books)


spittin' horns have made a fantastic cd with fresh renditions of Mingus tunes. The arrangements will both surprise and delight. The playing is top notch. I recommend this cd!

Seamus Blake, New Yorker Saxophonist & langjähriges Mitglied der legendären Mingus Big Band


spittin' horns harmonisieren Mingus neu und improvisieren höchst originell; sie entwickeln ihn motivisch weiter und sind auch rhythmisch so alert, dass man Schlagzeug und Bass nicht eine Sekunde vermisst.

Manfred Papst NZZ am Sonntag


Dieses alpenländische Jazz-Bistro sollte man sich merken, dear Charlie in Jazz-Heaven.

Thomas Hein Concerto


spittin' horns fauchen und spucken bereits seit einem Jahrzehnt. Jetzt ist ihnen mit dem Debut-Album "Moanin - Mingus Reloaded" der ersehnte grosse Wurf gelungen. Ein vielversprechender Durchbruch.

Reiner Kobe Jazz'N'More


…. in der Folge laufen die spittin' horns zu ganz grosser und turbulenter Form auf - ein prägnanter Einstand.

Rolf Thomas, Jazzthing